February is National Heart Month
February is a time for hearts...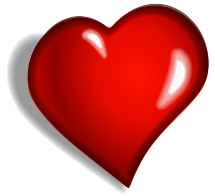 Find out more about protecting your heart health, or that of someone you love:
http://www.goredforwomen.org/love_your_heart/how_to_love_your_heart.html
Older adults can benefit from physical activity:
http://www.cdc.gov/nccdphp/sgr/olderad.htm
ECMC has been recognized nationally for cardiac care:
http://www.ecmc.edu/
The Stay Fit Dining & Exercise Program offers some helpful information for older adults, as well as specially designed exercise activities:
http://www.erie.gov/depts/seniorservices/health/nutrition_info.asp
The American Heart Association has developed the Heart Check program:
The Go Red Heart Checkup is an interactive online assessment tool created by the American Heart Association to help women take charge of their heart-health. Just enter your information into the Go Red Heart Checkup questionnaire at goredforwomen.org, and within seconds, you'll get an easy-to-read report that evaluates your risk of having a heart attack or other cardiovascular event within the next decade. The Go Red Heart Checkup identifies risk factors that can be changed and provides personalized action plans that you can print and use to discuss your heart-health with your doctor.